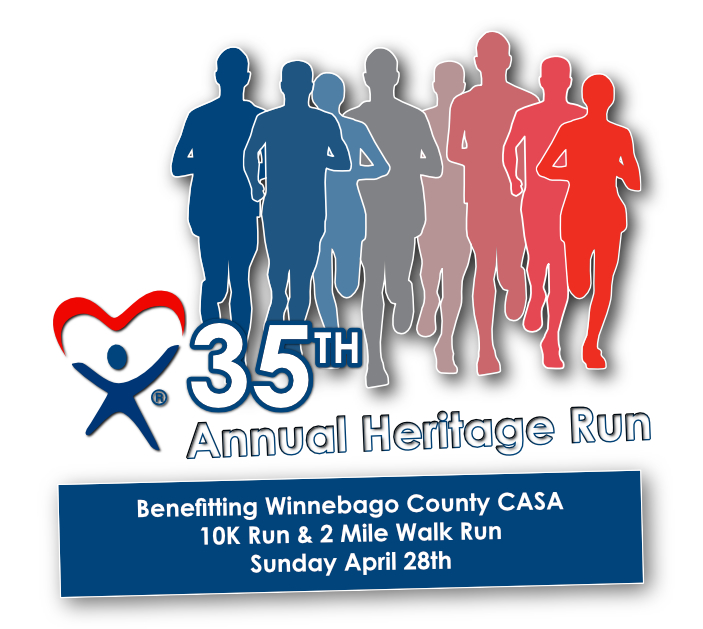 35th Annual Heritage Run
Winnebago County CASA is proud to announce the 35th annual Heritage Run. As this year's beneficiary and host, we are honored to be a part of such a historical event right here in Rockford. With the help of sponsors, community, local businesses, press, staff and volunteers, we strive to provide a high quality running event while showcasing the community, and promoting local businesses and Winnebago County CASA.
Winnebago County CASA is a nonprofit, volunteer-based organization that advocates for abused and neglected children within the juvenile court system. Our trained volunteers are appointed by a judge to represent the best interests of children in abuse and neglect court. Our obligation is to ensure that the children we represent will be visited monthly, and that their needs, desires and circumstances will be reported to the court at every scheduled hearing. The Court Appointed Special Advocate/Guardian Ad Litem (CASA/GAL) is the consistent person in a child's life during a very difficult time of navigating the court system.
Our overall goals are:
Raise awareness and funds for Winnebago County CASA to support its mission to be the voice for abused and neglected children in the Winnebago County Court System.

Raise awareness to the Rockford area just South of State Street

Promote health and fitness in the Rockford area and surrounding communities

Provide an extraordinary advertising opportunity by showcasing the Rockford area businesses to those participating in the race and their family and friends
Join as a sponsor for the 35th annual Heritage Run and you can help make a difference in a child's life! 
How to participate:
Sponsorship Opportunities:
If you would like to learn more about how to be a sponsor for the 2019 CASA Heritage Run please download our Sponsorship Guide here.
If you have any questions please email us at: lerickson@winnebagocountycasa.org, or contact Leslie Erickson at 815-978-2322 with any questions.
Register as a runner:
To register for the run as a runner please click here.
Packet pickup will be on Saturday 4/27, 12pm-2pm at Runner's Image, 219 E. State St.  We will also have packet pickup the day of the event Sunday (4/28)starting at 11:45am at Davis Park.  
Earth Day Course Clean up Event:
On Monday April 22nd, Earth Day, Runner's Image will be hosting a Run/Walk to help clean up the course ahead the Heritage Run. If you would like to participate you can visit the vent Facebook page at: https://www.facebook.com/events/1538044846339182/
If you have any questions about this event please call Runner's Image at: (815) 963-2171
Volunteer:
To volunteer at the 2019 CASA Heritage Run, please sign up here.
We need more volunteers from 11:45 AM until 1:00 PM.
Poster:
If you would like a copy of our poster to help promote the event you can find a copy  here.
Please only place where allowed, if you have any questions please contact Leslie at the information provided above.